with two blog posts today. I suppose since I can no longer procrastinate over school now that it is over, I will procrastinate everything else in my life. So, today I am also linking up with
Jake
and
Holly
for "finish-the-sentence."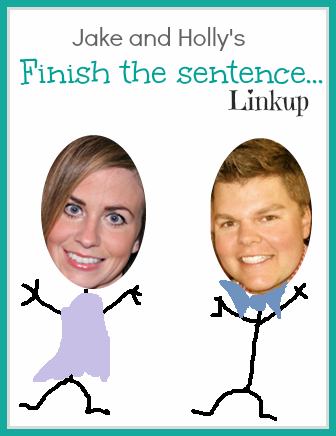 Unlike my siblings (who I love very much).... I am not a male and I'm surely not over 6 feet tall.
My best friend says... some pretty witty things that I don't always understand, but usually make me laugh anyways.
People call me... Sassy Cassie, well, for obvious reasons.
I most often dream... CRAZY THINGS!!!! Literally, I almost always remember my dreams and they are nuts. I also like to add some audio to my dreaming, talking in my sleep is my forte.
The best part of my day... is right away in the morning when I get my quite time, catch up on blogs, drink my coffee, and get my workout in.
I really don't understand... why it isn't acceptable to not wear a bra everyday. Sorry, I just hate them.
I get really annoyed... at a lot. Mostly clutter.
There's nothing like a... run during sunrise.
Lately, I can't get enough... of "How I Met Your Mother." Actually, that's a lie, it's not lately, it's been an ongoing addiction for quite some time now.
One thing I am NOT is... quiet-spoken. I have a problem-- I think everyone wants to know MY opinion. WRONG.
I spent too much money on... food. I'm a food snob.
I want to learn.... how to be crafty. Not my strongest attribute, probably because I dislike glitter. I feel like you have to like glitter to craft, or be a sorority girl.
If I ever met Celine Dion, I would... tell her about how my little brother used to sing "My Heart Will Go On" over and over again at age 6. This was questionable. I will use this to embarrass him at every opportunity to this day.
I can't stop... listening to Sarah Jarosz.
Never have I ever... eaten Chick-fil-a. I will not.
Reese Witherspoon... poor girl....