ONE:
My sweet friend
Cassie
from Living on Cloud Nine will be co-hosting a weekly link-up with me every Tuesday starting this coming April 22!!! The link-up, know as In the Word Tuesday, will give us all an opportunity to share what God is teaching us through the Word. No rules, restrictions, or prompts; we just want you all to write and share your hearts! We are excited about this project and hope that it will give us all an opportunity to connect! Please consider joining us this coming Tuesday and help us spread the word.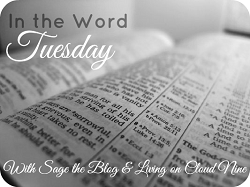 TWO:
Our pastor posted this on our church's networking website this week:
"Hey guys I wanted to remind everyone of Easter Sunday and how great of a time it is for us to bring people to church. I have been praying and hoping to see God use this Sunday as a time to do work in people's hearts. If there is a time to be bold in inviting your community to church, I think it would be this week.
So I'll ask you to join me in prayer and to make an effort to ask multiple people to join us this Sunday. What a story it would be to look back and know that we invited people that we probably wouldn't have normally and see that God used that to save them. I'm hopeful that we will be able to share that story, so please don't waste your Easter and lets pray for big things this week.
No matter how many people show, I am excited to worship with you all. Friends this week more then any we get to remember what hope we have in a savior that has defeated death, sin and our brokenness. And we get to remember that very savior is our king that loves us and is still at work in us.
Thankful for you all and what God is doing in us together."
Oh gosh, how I love
this church
. This man has an amazing heart. That being said, I would really like to encourage you all to be missional these next few days as Easter is approaching. What an amazing celebration of our Savior. I think our pastor said everything I wanted to say, but I would again encourage you to invite someone with you this Sunday so that they might come to know the treasures He has to offer them. Happy almost Easter, friends! 
THREE:
M and I have been bingeing out on Dexter lately. We might have a slight problem. Anyways, we just started season 5, but I think I am still in shock after how season 4 ended. I literally wanted to throw up at the end of it. Please tell me I'm not alone.
FOUR:
I was looking back on some posts from this time last year, when I started blogging the first time around. I wrote a few posts on
doubt
, a
cause I can't brag enough on
, my
baptism
, and
Christ-centered relationships
that still speak so strongly to me. I love being able to look back on the old posts I wrote, another reason I am so glad to be back in the blogging game!
FIVE:
I'm still trying not to be bitter about the fact that last week it was in the 80s and earlier this week we got snow. These Midwest winters are sure giving me a hard time... Thankfully some nicer weather is in our future the next few days!
Happy Friday!
P.S. Some fellow bloggers and I are giving away an ADORABLE coffee mug and $20 gift card over at
Brittany's blog
, check it out!