Am I the only one that gets completely thrown off on what day it is whenever a holiday weekend rolls around? I hope not. Our weekend in Louisville for the Fourth was perfect and I cannot wait to share more with you all about that tomorrow (I'm also co-hosting a fun giveaway!).
Since I was feeling fresh out of In the Word content (mediocre Christian over here, haha), I started thinking back to our weekend.
Last week I wrote about community
, and this week I am just still loving this topic. I'm especially stuck on the fact that community does not need to happen face to face. Some of the best community I have acquired through the internet and social media.
When I was exploring the whole faith topic, I read a lot of blogs. It was safe, and I didn't have to talk with anyone face to face. These blogs were a part of a HUGE turning point in my faith and I will be forever grateful to the ladies behind them. Two of these ladies,
Cassie
and
Renee
, have even become close friends of mine and have been a huge part of my growth as a Christian, especially since I basically had zero Christian friends two years ago. I'm sure you have heard me mention them before because they are awesomeeee.
I have had the pleasure of spending time with Cassie TWICE in real life (sounds funny to say) now. She encourages me in my walk with Christ, prays for me, and genuinely cares to know my heart. To me, that is community; even if we don't live in the same geographical community.
I had the opportunity to meet Renee for the first time over the weekend (again more on that tomorrow). She too has been such a great encourager throughout my "conversion" if you will. I remember reading her testimony for the first time on her blog and just being in awe that someone could experience similar things that I did and still be saved. To finally meet this lady was a HUGE blessing, especially since I feel like we have been living in community for so long already together.
Community does not need to be close in proximity to be close in your heart. People might think it is weird, but without ladies like Cassie and Renee my growth as a Christian probably would have been much slower and much more confusing. I cannot emphasize enough how grateful I am for community; both with my local friends, long distance friends, and "internet friends."
We would love for you to link up and share what is on your heart this week. The link-up will stay open until Monday so grab a button and join us!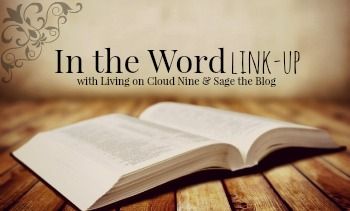 ______________________________________________________________
A few other ladies and myself are teaming up with Sarah at
Seriously, Sarah?
, and talented jewelry designer, Natalie, from
Wonderful Whimsical Wire
for a giveaway! We're here to give away an Etsy Giftcard AND jewelry from Natalie's shop!
Enter here:
a Rafflecopter giveaway