Happy Fourth of July! We are in Louisville for the weekend visiting friends and could not be more happy! Hope you have a wonderful day and an even better weekend!
I have already finished reading two of the four books on my
Summer Book List
. When I originally wrote the post, many people expressed interest in my reviews of the books. Since I have already finished two, I figured I would break the list into two parts. Part one included the books "The Fault in Our Stars" and "Plain Truth."
"The Fault in Our Stars"
John Green
3 out of 5 stars
Now, be warned that this review will probably make me seem like a cold, caress person, but for the sake of honesty it must continue. SO, if you haven't heard by now (what rock are you hiding under?!), this is a
young adult
novel about two teens, Hazel and Augustus, who meet in a cancer support group and fall in love (I'm being vague for those of you who are hiding under rocks). The reason I emphasize young adult is because this book is juvenile (coming from the girl who really liked Twilight this means something). Like juvenile even beyond what you would expect from a young adult novel. I had a hard time experiencing this "magical love" other people had told me about. To me, their "love story" was fairly boring and it left me wanting something more. This wanting made it difficult for me to really relate to what the characters were going through. The fact that I could not relate to two people suffering from cancer (or at least their families), when I know so many people that have suffered from this awful thing, made me feel uneasy about the book. I didn't even cry (kill me). Clearly, my compassion for the characters was lacking. Some of you might think it is because I am insensitive, but I think it simply has to do with the fact that I just was not absorbed in the story.
Now, this book is not an awful book- I just didn't love it. John Green is a great writer and he developed the characters incredibly well as John Green often does. However, this book was predictable. Which should come as no surprise as many other novels about cancer have also been written, many of which have similar story lines. So, overall, I was not impressed by this book. I do think it was a good, easy read but did I love it? No.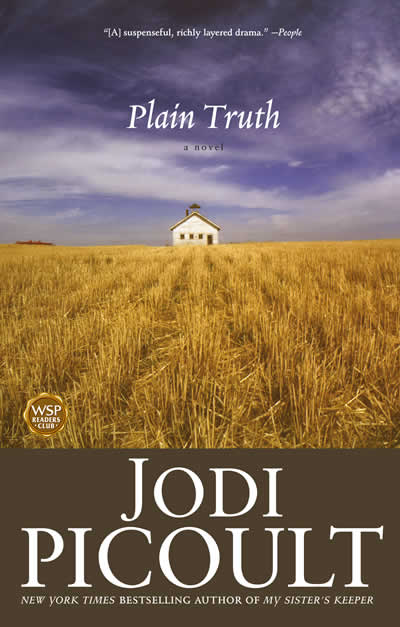 "Plain Truth"
Jodi Picoult
4 out of 5 stars
If you follow me on
Goodreads
, it is probably no surprise that I LOVE Jodi Picoult. She has this amazing way of creating stories where you feel like you are experiencing everything with the characters, like a friend would. Her writing style is unique, often switching back and for between which character is narrating between chapters. This is always refreshing for me as I often tire of the main character, or narrator, in many books about half way through. That being said, this was not one of my favorite Picoult books. I did, however, still very much enjoy it.
Plain Truth
is about the mystery of a newborn baby, which is discovered on an Amish farm. Since the Amish are known as being non-violent, it comes as great shock when circumstantial evidence implies the unmarried,18-year-old Katie Fisher is the mother of the dead infant. Katie claims she was never even pregnant. Something in Ellie, a hot-shot urban lawyer, tells her to take on Katie's case. Ellie, who moves to the farm to live with Katie and her family, quickly discovers how much their two worlds clash. This book is the story about reconciling those differences, learning to work together, and finding out the truth about what really happened to the infant. Along the way, both characters learn about their fears, desires, and hopes.
I particularly enjoyed this novel as it gave a bit of a glimpse into Amish life. Picoult has this ability to learn about her character's backgrounds and really make them come alive in every aspect of their being. This book was no exception, Picoult actually lived among the Amish while writing the story. However, I was not particularly excited about the ending. For such a well-written story, I thought the ending could have been much more developed and interesting.
Have you read either of these books? If so, do you agree or disagree with my review?