It's probably safe to assume you have had the following thoughts before:
"I just cannot wait for Friday to get here so I can get some rest."
"If only my vacation would get here sooner. I will finally be able to catch up on some rest."
"Had my significant other done the dishes instead of leaving them for me, I would have been able to rest tonight after work."
"If summer break would only get here sooner I could finally get some alone time and rest."
"If the baby would only take a nap so I could finally get some rest."
Am I right? I am pretty guilty of always looking forward to my next "break" in hopes that I will get some much needed rest. Sadly, the end of the said break, vacation, weekend, or nap usually ends with me looking forward to my next break, vacation, weekend, or nap in hopes of getting rest the next time. Usually because the rest I thought I was going to get doesn't always happen. Weekends get crazy, vacations can be stressful, kids don't always go down for their planned naps, and our spouses do not always do the dishes in anticipation of us needing rest, because they need it too. The rest we so desperately needed doesn't always come.
Have you ever thought about why these types of rest are often less fulfilling than we expect them to be?
I have been thinking a lot about why this is the case lately (mostly thanks to
this great sermon
). I think the answer is simple: we do not achieve rest in these ways because they are not meant to give us rest. Only God is meant to give us the rest we need. Not our vacations, breaks, naps, or weekends.
The Bible is pretty clear about where and how we are to find rest:
"And he said, 'My presence will go with you, and I will give you rest.'" Exodus 33:14
"Come to me, all who labor and are heavy laden, and I will give you rest. Take my yoke upon you, and learn from me, for I am gentle and lowly in heart, and you will find rest for your souls. For my yoke is easy, and my burden is light." Matthew 11:28-30
These verses make it pretty clear that those desired breaks are not giving us the rest we want and think we need because they are not meant to. Only Jesus is able to give us the rest we need.
I want to live a life that treasures the here and now, and not my next break. I want to be present in my own life instead of always looking to what is next. I pray that we would hang on to the truth that we can ONLY have true rest in God. I pray that we would remember this during those tough days of work, sleepless nights, dirty houses, and times of restlessness.
How are you finding your rest these days? Would you link up and join us? Just grab the button below and link-up any of your faith-related posts this week!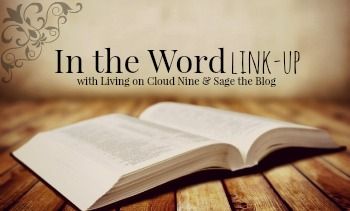 ------------------------------------------------------------------------------------
On a different note, how is the In the Word in One Year study going for everyone?! I have loved following along with you. I can honestly say that digging this deep into God's word on a daily basis has been so great for me. It gives me time to slow down and focus on what is really important in life. How is the study going for you?