I always knew I wanted tattoos. BIG tattoos. By the time I was 19 I had two small tattoos and I had begun the work on my second largest: my Dia de Los Muertos, or Day of the Dead, skull on my left shoulder. The Day of the Dead is a holiday where family and friends gather to pray for and remember friends and family members who have died. My skull was a way of honoring those in my life that had been lost in a way that was beautiful.
Since this was going to be my first big tattoo, I was very careful about finding the right artist. I wanted someone that was skilled in Americana-style tattoos and that had a stellar portfolio. Thankfully, I stumbled upon an artist by the name of Keegan whom worked at a local shop owned by a guy from my hometown in California. I hung around the shop quite a bit trying to get to know Keegan better, stalking his portfolio, and watching him tattoo. Like I said, if I was going to put something on my body forever I wanted to make sure that it was done by the right person. Keegan was really great; even despite the fact that I was a naive 19 year old.
When I shared the idea with him, he was excited and sat down with me to draw up a few sketches. It was exactly what I wanted and I couldn't have been more excited. It's funny how close you can grow to an artist when you spend hours upon hours sitting in a chair while they tattoo you. After our first 3 hour session, the outline was done and I was sent home to heal before my next session.
About six weeks later when I went to go make another appointment, I got devastating news. Keegan had taken his own life just a few days prior. Somehow, this really impacted my life. I barely knew this guy but next thing I know I am at the tattoo shop donating to his benefit, meeting his family, and attending his funeral. It's funny how such a seemingly insignificant part of your life can leave such a lasting impact on you.
I didn't really feel right about working on my tattoo after that. I was left with an outline, and I wasn't sure if that was how it was always going to stay or not. Many artists won't touch other artist's unfinished work, and I didn't even know that I wanted them to. The owner of the shop, after almost a year, encouraged me to finish the tattoo. He reassured me that he had a talented artist that would give me just what I wanted. I gave in and decided to do it.
I don't even remember this guy's name to be honest. However, I do know that he did a great job on my shoulder. The tattoo isn't at all the idea that Keegan and I came up with originally, which took some adjustment, but in the end I was really happy with it.
A year or so later when I was ready to get my sleeve started, I tried to reach out to this artist again. This is when I took another hit. The artist who had finished my shoulder had overdosed on heroin and died.
I often joke with people that my tattoo is cursed. My current artist always jokingly says things like "I hope I don't die when I finish this piece." That's the only way you can make light of a situation like this.
What started as a memorial tattoo for a few people in my life, turned into a memorial for those whom I lost in the process as well. It's funny how things like that happen.
Although the circumstances are unfortunate, a lot of good has come from losing Keegan. I am still in touch with his wonderful family, whom have gotten me pretty involved with the American Foundation for Suicide Prevention, and I have this amazing tattoo to remind me of what a talented artist and person he was.
Do you have any "memorial tattoos?"
Kaitlin and I hope that you will grab the button below and link up with your own tattoo story! The linkup will be open until next Friday so if you can't link up today be sure to sometime in the next week!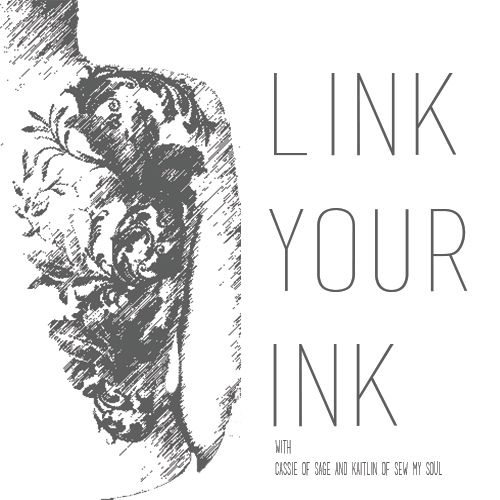 One last thing: in honor of tattoos use the code "TATTOO" to get 30% off any ad space (excluding the medium space) through next Friday!